You can earn money online from blogging. How do you start? Once you become an expert blogger, you can easily drive traffic to your blogs and generate a passive income. In this article, you will learn how to make money blogging for beginners.
Every successful blogger had to begin from scratch. Therefore, do not wait for the right time. You need to start at some point, and it is better to start sooner as possible.
Now the question is, "Where shall I start?".
Select a Niche to start blogging and earn money
The first and foremost step towards making money blogging for beginners is to decide on a niche you want to write a blog. Niche is a topic/subject you will primarily focus on while writing your blogs. There are various niches to choose from, such as technology, fitness, travel, food blogging, beauty, etc. However, if you are writing a blog for the first time, it is best to choose a niche on which you already have some knowledge and can provide useful information.
Do not pick a niche that is irrelevant or does not interest you at all. Check out the right way to do it.
Try to come up with a niche out of your hobbies. Most bloggers choose their niche based on their hobbies. If you like reading books, write informative blogs and highlight what people can learn if they read the book or review the book. It is also associated with music. You can write tutorial blogs on how to play a particular instrument,
Are you an expert in any particular activities such as sports, communication, or craftwork? Then write tutorial blogs on any particular activity or skill.
Choose a name to represent your blogs to the audience
Now that you have found a niche to write blogs, you need to choose a name by which people will recognize you.
Remember, the name must be relevant to your blog type. You can put on some creativity to connect it with your blog category.
Tips: Free blogging sites to earn money.
Design Your Blog
Design your blog so that it looks appealing to the audience. Create a unique designing style and hold on to it. It should be readable and easy to understand. Your blog's title attracts the readers' attention, so make sure you put a lot of effort before putting one.
Create a main page
A main page is necessary. On the main page, you will include a brief description of yourself. You can also add how you started blogging and your inspiration. Secondly, if you divide the categories, then it will show on the main page.
Build Traffic on Your Blog
Organic traffic is an important factor if you want to make money writing online. Organic traffic is nothing but a search query based on pure "user intent". Your aim is to rank your content on a particular search term based on the niche.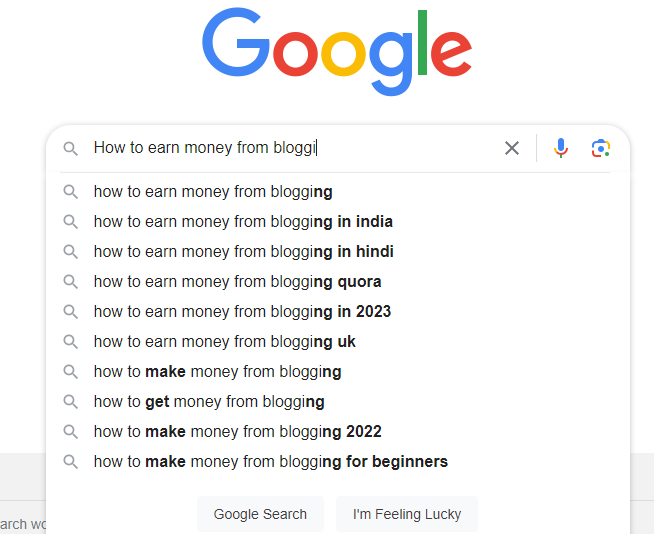 How to get organic traffic?
If you want to earn money from blogging, then you must generate organic traffic to your blogs as soon as possible/ To do that, you need to take care of the following factors.
How much information is your content?
Quality and informative content will eventually rank without putting in a lot of hard work.
How much effort have you put into SEO for your blogs?
Firstly, To rank your blogs based on the searches of your target audience, you need to optimize your content correctly with technical SEO. Technical SEO includes website loading speed, URL structure, tags, and categories, XML site map, canonical URLs, and schema markups.
Secondly, On-page SEO includes optimizing your content with keywords, blog length, blog titles, internal linking, and the use of images and videos.
Thirdly- Off-page SEO is another important practice to drive traffic to your blogs. The practice involves "link-building". You need to create backlinks on various digital platforms to create recognition for your blogs.